Chilaquiles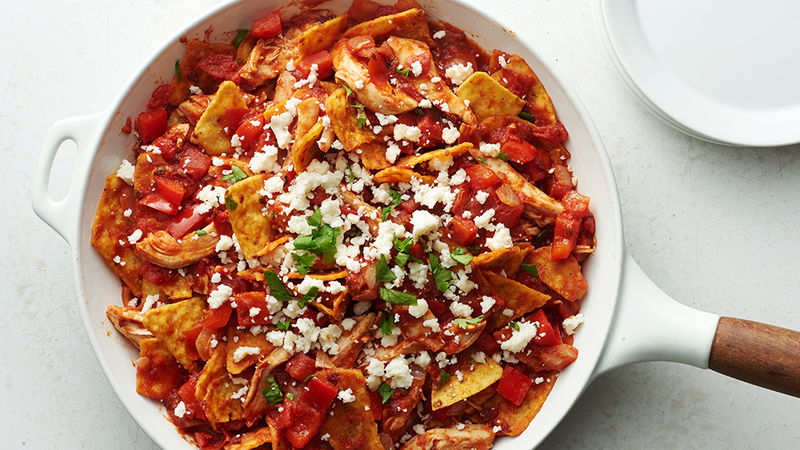 Ingredients
1
lbs.
Tomatillos,
I used tomatillo milpero, they have the best flavor, if you can't find this kind, choose the smallest tomatillos from the bunch.
1/2
small
white onion
3-4
Serrano chiles,
fresh
1
small
Bunch of Cilantro
1
teaspoon
Sea salt
2-3
tablespoons
Corn, or sunflower oil, you can use
the reminder oil you use to fry the tortillas.
1-2
eggs per person,
sunny side up or over easy
To fry the tortillas
12
White corn tortillas
1/2
cup
Grapeseed oil, sunflower or corn oil,
to pan fry the tortillas
Garnish with:
1/2
cup
Queso Fresco
1/2
cup
Crema Mexicana
1/2
cup
White or red onions,
diced
Refried beans,
its a must!
Prepare the Salsa Verde:
In a small-medium sauce pan place tomatillos, chiles,onion, cilantro, and barely cover with water. Place lid and simmer until they are cooked, about 12-15 minutes. Once they are cooked, remove ¾ of the liquid add salt and blend. 

Set aside.

The Semi-Crunchy Chilaquiles Preparation:

1. Prepare one recipe of your choice of salsa VERDE Set aside.

2. Cut the tortillas into triangles, separate them. Heat up a frying pan add ¾ cup of the oil wait until the oil is starting to ripple, add the tortillas in two batches and pan fry them until evenly golden light brown as possible. Remove from pan and drain them into a pan lined with a paper towel.

3. Start cooking the sunny side up or over easy eggs. Set them aside, on a tray to keep them warm. Do this just before the final step so they don't get cold.

4. Remove the excess oil from the pan, and leave about 2 tablespoons of oil into the pan. Once the oil is hot, add the salsa VERDE and cook for 1-2 minutes, stir constantly until bubbly. Add the tortilla triangles you just panfried and toss into the salsa for 1-2 minutes. Plate them immediately. Top with an Sunny side up egg or over easy egg. Garnish with Crema, Queso Fresco and Onions, and a side of refried beans. Enjoy!

Happy cooking!